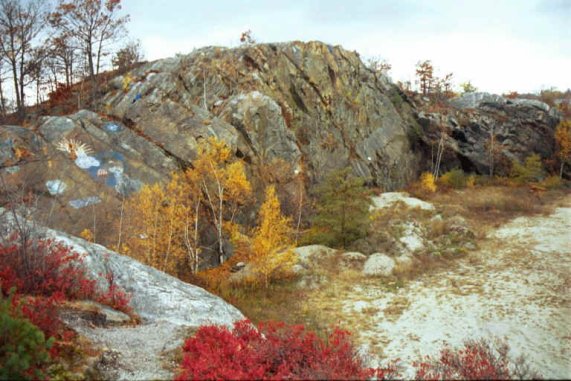 Do you enjoy hiking, walking, or even rock climbing? Or maybe just enjoy a great view close to home. Well, right here in Portland, Maine is a great place to do all of this.
Take a look at what the Quarry offers the people of Portland and southern Maine.
Highest natural point in Portland with scenic view of Casco Bay, Mt Washington, and the Portland area.

Outstanding rock climbing area.

Great place to view 4th of July fireworks.
However, a
s of Spring 2004, the Quarry is closed and the Portland Police Department is enforcing No Trespassing signs.
The owner may have some very good reasons for doing this but we all need to work together to find a better solution.
What you can do:
Combine efforts to have your voice heard by joining the Portland Rock Climbing Club. Membership is free. E-mail Jeff at highcomm@maine.rr.com for more info.

Contact city officials and voice opinion.

Contact supporters and combine efforts.

Land Bank Commission, Roger Berle 773-2261
Rock & Ice Climbing Adventures, Glenn Vaillancourt 286-6169

Help keep the Quarry clean!
go here for more pics of quarry: rocksanctuary.tripod.com/Quarry/quarry.htm
What's up with this "Flash" and "Red Point" stuff?
Climbers have assigned a few noteworthy style quantifiers to fully define their accomplishment: Flash, On-sight, red-point, pink-point, and hang-dog.
On-sight-Flash: Completing a route that you have previously never seen nor done, you have not received any tips or information (beta), other than "here is where it starts, there is where it ends, and bring ten quick-draws..." You must complete the route in pure free-style without any falls.
On-sight: Same as above, except you may have studied a route map and received a little verbal beta. The term comes from the fact that you climbed the route on-sight.
Red-point: A climb that you complete from the ground up in pure free-style without any falls. You may have attempted the route a number of times previously in lower degrees of style. The red-point is the goal of any climb at your climbing limits.
Pink-point: A climb of debatable quality - you climb it cleanly without any falls, though you may rest on route, using the rope to bear your weight. Like I said, a debatable accomplishment.
Hang-dogging: Working a route. Hanging on the rope as you rehearse difficult segments. Again, not really a climbing accomplishment, but when you are attempting to extend your limits, a determined climber will utilize hang-dogging on his way to a later red-point attempt. The hardest climbs set today are often done after long periods of hang-dogging and preparation, memorizing foot placements and movement sequences.
Mountaineering: Freedom of the Hills



by: Don Graydon and Kurt Hanson


For over thirty years and through four editions, Mountaineering: The Freedom of the Hills has been the bible of the climbing world, initiating thousands of people to the joys and challenges of wilderness exploration. An essential teaching tool and resource for novice to advanced mountaineers, Freedom is the standard text for climbing courses throughout the United States and abroad, and even has been used as a training manual by the U.S. military.
Completely updated and revised, the 5th edition redefines the basics with the latest information on climbing techniques, snow and glacier travel, weather, safety, first aid, and leadership. Expanded chapters on first steps, belaying, and aid climbing and pitoncraft, plus several new sections on rock climbing, help broaden skill and expertise. Freedom covers the latest in equipment, including plastic boots, specialized rock shoes, step-in/clamp-on crampons, interior- frame packs, modern spring-loaded camming devices, ice-climbing tools, and belay and rappel devices. A completely new chapter on winter and expedition climbing rounds out this exhaustive edition, making Freedom the most comprehensive and contemporary source available on mountaineering.
More than 350 all-new illustrations, created from photographs of climbers demonstrating specific procedures, depict and clarify instructions in the text. And in keeping with today's environmental concerns, Freedom emphasizes clean climbing and low-impact wilderness use.
Can be purchased at: Adventurous Traveler Bookstore
home

contact us
---
And remember, climbing is dangerous. Anyone who tells you driving is more dangerous than climbing has not carefully evaluated the risks. One circumstance in which driving may actually be as dangerous as climbing is when you're driving home from climbing, at 1am, after a grueling epic. In any case, be aware of the risks involved.